Changelog
2018-08-21 Read Message API
from now you can use the
read message API
to retrive all messages of a device included all parameters.
2018-08-17 WINDOWS 10 Icon-Color, Priority Frame Color
From now you can send colored icons with your push-notifications under Windows 10. Simply pass the parameter
c
with the desired hexadecimal color value. In addition, the icon is framed in red with a priority of 2 and framed in yellow with a priority of 1.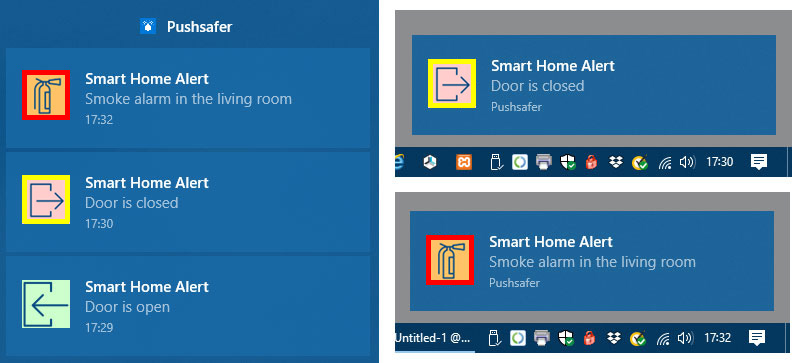 2018-08-15 Serverside update
update email alias and link/e-mail creator with new parameters
2018-08-14 iOS, Android & WIN 10 Client V2.1.1
- add
URL Scheme
pushsafer:// (iOS, Android)
- resend push-notifications (new parameter retry
re
& expire
ex
)
- Reply to messages (new parameter answer
a
)
- add Priority to Client APP
- Widget: add Icon Color & Priority (iOS, Android)
- Preferences: set Priority Highlight Color, Font size, Refresh message list on warmstart
- add priority and answer parameter to message filter
- new notification sounds (smart home sentences, only iOS & Android)
- Design adjustments
- minor bugfixes
2018-07-12 Priority parameter
Now a priority parameter
pr
can be set for push notifications.
See API description
.
2018-02-20 Tools
Base64 Encoder/Decoder
,
HTML Encoder/Decoder
,
URL Encoder/Decoder
and
JSON Formatter
are available now.

2018-02-16 Tools
Image to Data URL (Base64) Converter
and
Icon-Image Creator
are available now.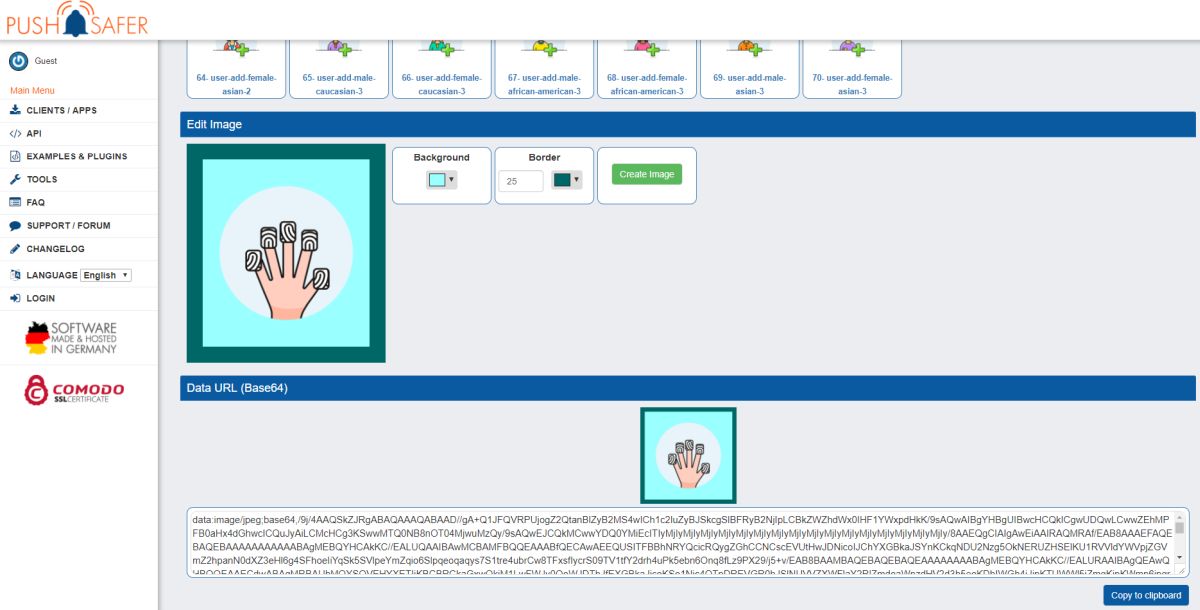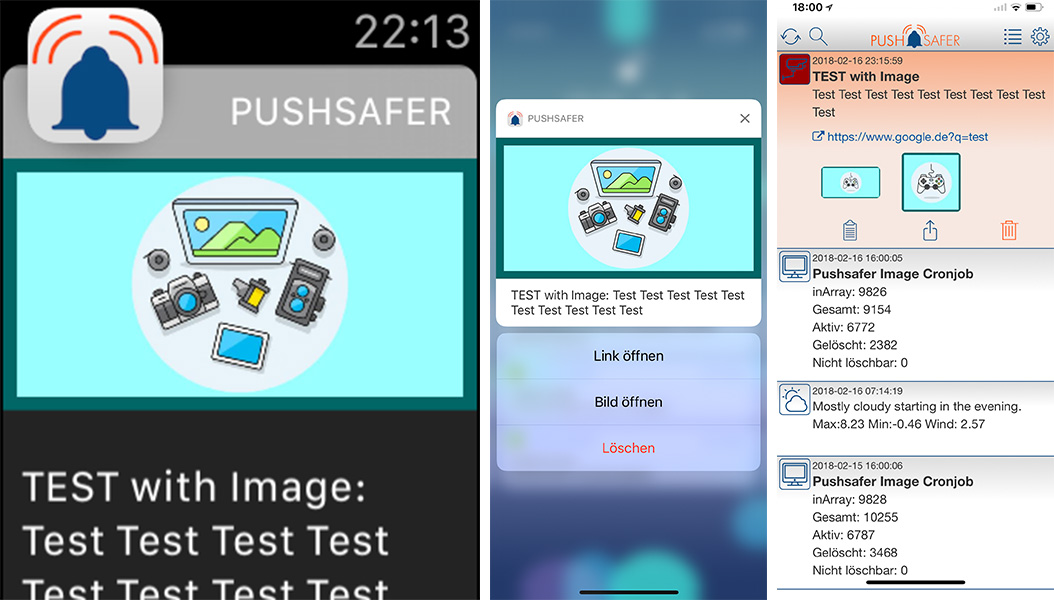 2018-02-05 Changeover from device to account-based payment
All available API calls from previously purchased device quotas have been aggregated and stored in your account.
Purchases are now credited to your account. All registered devices use the account quota.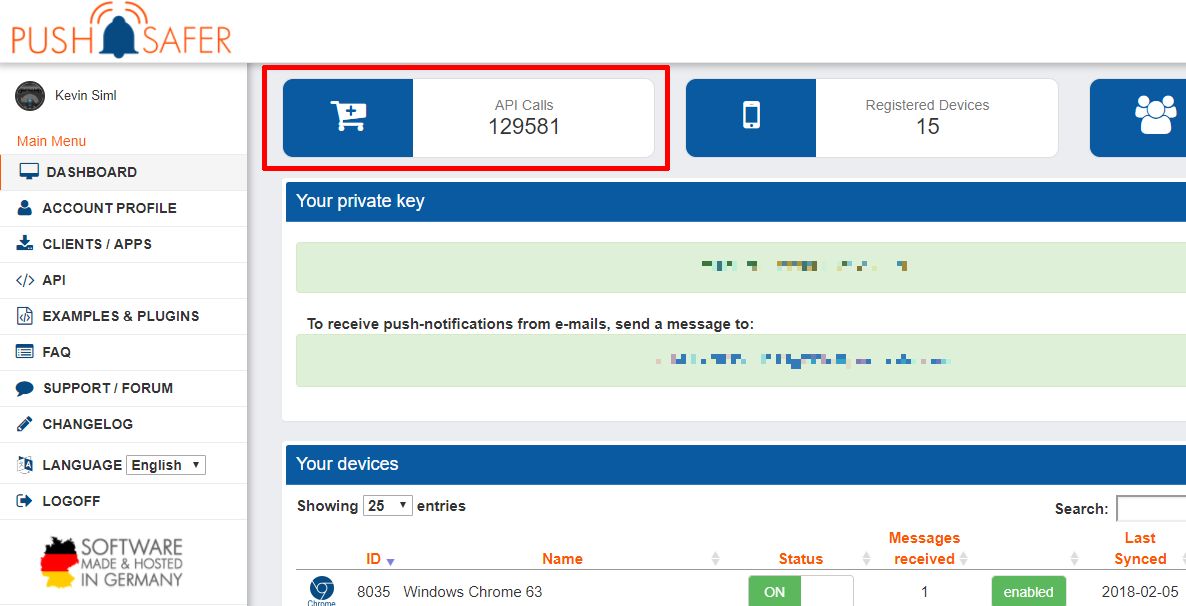 2018-01-05 Moving to a cloud server
To be able to offer best performance now and in the future, Pushsafer has moved to a new cloud server.
Data center: Telehouse
Server location: Frankfurt a. Main


The premium data center in Frankfurt am Main in Germany is characterized by high availability, high reliability, PCI DSS compliance, ISO / IEC 27001: 2013 and the use of 100% green electricity.
2017-12-14 Server side update
- Add the option to summerize push-notifications (
Inbox Stacking
, only Android)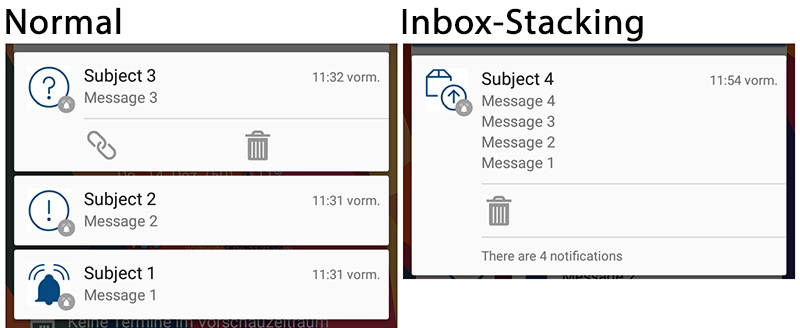 2017-11-20 iOS Client V2.0.2
- optimized user interface for iPhone x
2017-11-18 iOS, Android & WIN 10 Client V2.0.1
- Improved reading of messages in offline mode
- add message search and filter (icon, color)
- option to add app to autostart
- minor bugfixes
2017-11-03 Server side update
- add LED notification (only Android, device needs a RGB-Notification-LED)
- with the parameter
c
for icon color, you also can set the LED Notification color
2017-10-28 Server side update
- add new
API Parameter
Icon Color
c
to control the color of the icons
2017-10-20 Android Client V1.0.7
- minor bug fixes
2017-10-19 Windows 10 Client V1.0.8
- registering
guest-devices
- new icons for push-notifications
- minor bug fixes
2017-10-17 iOS, Android Client V1.0.6
- registering
guest-devices
- Android & iOS: new icons & sounds for push-notifications available
- Android: fixed scrolling issue on various devices
- Android: add app to autostart
- minor bug fixes
2016-12-08 iOS Client V1.0.5
- add widget in the Today screen
- minor bugfixes
2016-12-04 Android Client V1.0.5
- add 2 home screen widgets, list with last 5 notifications (min 2x2), last Notification / Alarm Icon (1x1)
- minor bugfixes
2016-11-17 iOS, Android & WIN 10 Client V1.0.4
- option to delete all or selected messages
- advanced settings for sharing and clipboard
- minor bugfixes
2016-10-30 iOS, Android & WIN 10 Client V1.0.3
- add the possibility to secure the preferences page with a pin
- fix issue with small icons in push notifications
- minor bugfixes
2016-10-07 iOS, Android & WIN 10 Client V1.0.2
- Add Action Buttons for Push Notifications (delete message, open image or link directly out of the push-notification)
- minor Bugfixes
2016-09-29 Server side update
- send up to 3 images with each push-notification, the first one is displayed in the push-notification, all 3 can be opend in the client APP
2016-07-03 Server side update
- possibility to create device groups
2016-06-28 Server side update
- Web Push-Notification for Chrome 50+ and Firefox 46+
2016-06-08 Android Client V1.0.1
- minor bugfixes
2016-06-06 Initial release V1.0.0
- with Android & iOS App