How does Pushsafer works and how do i use it
Pushsafer is a service to receive instant push notifications on your phone, tablet or desktop pc (
iOS
,
Android
,
Windows 10
,
Chrome, Firefox
) from a variety of
sources
. Through the e-mail gateway or by the
API
Pushsafer can be integrated in almost any application. To start quickly, follow these steps:
Install a Pushsafer client app on your iPhone/iPad/iPod Touch, Android or Windows 10 device, or register your Desktop browser (Chrome, Firefox) in your account.
Launch the client app of you choice and walk through creating a Pushsafer account (if you have not already done) and registering your device in your account. You can register as many devices as you like.
You get your own Private Key (which you always find on your dashboard). Your Private Key is a randomly generated identifier which allows you to send Pushsafer notifications to your devices by our E-mail / URL gateway or by our API.

Now you can start to set up your personal notifications by setting title, message text, icon, sound, vibration and/or image
You also can create device groups to send notification to a defined group of devices.

To ease setting and managing your various events, you can create and use e-mail aliases with predefined settings.

Advanced users can call our API in the programming language of their application.
Pushsafer also processed images (up to 3), which send by email or api.
For an easier and faster integration of the Pushsafer service in your applications, take a look in the examples and plugins area.
In more detail, Pushsafer is a service platform for sending and receiving push notifications. On the server side, we provide an E-Mail/URL gateway and API for queueing messages to deliver to users devices. On the device side, our apps receive those push notifications, show them to the user, and store them for later viewing.
What the cost of using Pushsafer?
Opening and using a customer account and a small quota of API calls for test purposes (for each registered device) is free.
If you like the service and you want to continue receiving messages to your registered devices, you can buy additional API calls from your user account.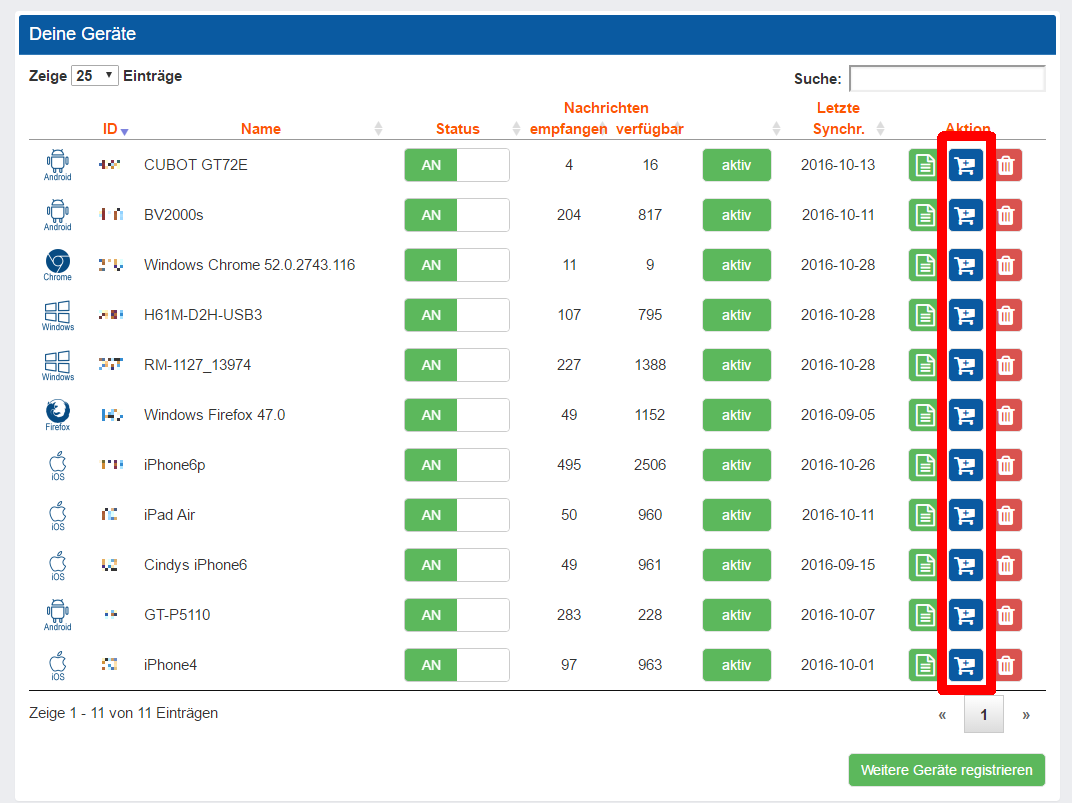 API Calls
Price
1000 additional API calls
0.99 EUR (0.99 EUR / 1000 API Calls)
2200 additional API calls
1.99 EUR (0.90 EUR / 1000 API Calls)
3600 additional API calls
2.99 EUR (0.83 EUR / 1000 API Calls)
7500 additional API calls
4.99 EUR (0.67 EUR / 1000 API Calls)
20000 additional API calls
9.99 EUR (0.50 EUR / 1000 API Calls)
60000 additional API calls
19.99 EUR (0.33 EUR / 1000 API Calls)
200000 additional API calls
49.99 EUR (0.25 EUR / 1000 API Calls)
500000 additional API calls
99.99 EUR (0.20 EUR / 1000 API Calls)
API Call = The request for conversion and sending to one device